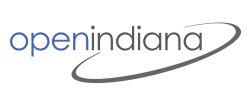 Building OpenIndiana
Source repositories
OpenIndiana is built from several source repositories which are available on Github.
Build process
The OpenIndiana Hipster build process is rather simple.
Once a pull request has been merged to oi-userland Jenkins starts an incremental oi-userland build. For components coming from other source repositories manual intervention can be necessary to start the build. illumos-gate is rebuilt daily in a separate Jenkins job.
If packages are built successfully they are either published to the main Openindiana package repository or to the package repository for patent-encumbered software.
Note that the main OpenIndiana package repository also contains packages inherited from the now discontinued OpenIndiana /dev distribution. Such packages are available only in binary form and can be identified by a 2013.0.0.0 branch number.
Twice per year the OpenIndiana developers create ISO images based on this repository using the Distribution Constructor.
If you want to build a customized ISO image you can publish necessary additional packages to your own repository and use Distribution Constructor to create images with additional publishers and/or packages.